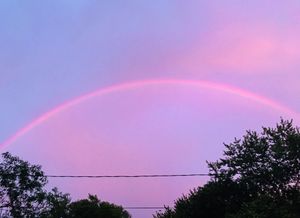 THE PROMISE
Everything is different.  So many wish to get back to "normal", or worse yet, just get on to a "new normal"!  How about getting back to GOD since He is Almighty  . . . as in mighty in all ?!  God is the Master Planner and Creator of everything, so when the Lord opened my eyes to look at the letters "C - O - V" a little closer I could see, and understand with His wisdom!  Choice in free-will: Did I wish to go the way of what His "COV-19" ie. Great Awakening of Covenant in 20/20 onward which was the point of trusting Him and His promises exclusively, or was the evil ushered man-made virus going to re-brand my understanding.  Here I will  rebuke in Christ Jesus and remark the re: Mark of Beast-ly virus that attacks THE LORD's COVENANT via those who are evil, money hungry, or complicit .  From the songs I received inspired in Holy Spirit vibe, He had given warning lyrics back in 2019 with titles; In 2020, From Eagles Wings, and Running In The Reign In, the last title I had hoped to final before the Lord has given me the HALT. Which is HIM ABOVE LIFE'S THINGS! He brought this perfect rainbow-no color missing - to my home and in the Eastern sky no less to remind me of that promise of COV-enant  given to humanity and that no other "COV" would or could stand against me.  The "rainbow" is the LORD's COVenant, a promise that the evil one will never stop stealing, lying, and abusing as symbol.  It is June of 2021 and I have to confess, having suffered two bouts of Flu 20/20 which did include a double-pneumonia  cultivated by a mask for which I have repented, as I was blessed to read, research, and have revelation.  For over a year, while the LORD sustained finances, restored my health, gave inspiration for music, I grew away from the crutch of needing external acceptance for my worth or corporate church or industry approval.  THE LORD. There was a fork in the road, there was a "why" to the narrow path, and the LORD answered.  The Holy Spirit heals us completely when we repent in the name of Christ Jesus, and claim the Victory, not the virus.  Not everyone is there.  No judgement.  Yes discernment.  Yes, accountability.   Yes, sovereign whole holy health.
I love my family, music family, faith family, and friends.
I cannot change anyone to believe TRUTH of GOD or facts of man.
I can always encourage, pray, and testify as a witness to GOD ALMIGHTY through the Holy Spirit in Christ Jesus to jump at:
THE PROMISE
Luke 9:1 – "Then He called His twelve disciples together and gave them power and authority over all demons, and to cure diseases."
Luke 10:1,9 – "After these things the Lord appointed seventy others also, and sent them two by two before His face into every city and place where He Himself was about to go……And heal the sick there, and say to them, 'The kingdom of God has come near to you.'"
Mark 16:15-18 
15And he said unto them, Go ye into all the world, and preach the gospel to every creature. 16He that believeth and is baptized shall be saved; but he that believeth not shall be damned. 17And these signs shall follow them that believe; In my name shall they cast out devils; they shall speak with new tongues; 18They shall take up serpents; and if they drink any deadly thing, it shall not hurt them; they shall lay hands on the sick, and they shall recover. 
REPENT means "turn around" - "change the thinking of your mind" to the thoughts of the will of THE LORD.
The LORD knows - do you?
https://thehighwire.com/videos/live-from-event-2021-in-dallas-tx/
https://odysee.com/@sarahwestall:0/blood-images-final:9?r=BfKUPtSaguaw6yMJLzLb74kAXHfnUz8N 
https://scitechdaily.com/new-discovery-shows-human-cells-can-write-rna-sequences-into-dna-challenges-central-principle-in-biology/
https://t.me/thatViolynistCarrieLyn    
(Telegram Profile - where the real uncensored bio tech science is being shared full disclosure. )
Blessings,
"that Violynist"